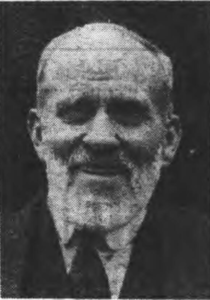 Frank Ashmead (1856 – 1930) was born in Upton St Leonards, the son of a farmworker who died in 1862 as a result of an accident at work. Frank was brought up by his mother, Isabella, with seven siblings. Isabella worked on farms whenever she could and was otherwise dependent on poor law relief. Frank started work on a farm at the age of eight or nine. When he was 11 years old, he attended the Gloucester Mop Fair Day standing for hire in the appointed place and was employed by a farmer with wages of £2 per annum (less than a shilling week) plus food and lodging.
The next year he moved to Soudley in the Forest of Dean to work for  Richard Nelmes who ran a flock of sheep. After three years he obtained work at the Wooden House screens for the Bowson Colliery company near Cinderford. In the winter of 1874/75, there was a strike in the Forest pits which lasted three months through the coldest winter in 25 years. The hardship, cold and hunger forced the miners back to work defeated but the experience taught the young Frank for the need for strong labour organisation and so he became active in the miners' union, the Forest of Dean Miners' Association (FDMA).
After the strike, Frank commenced work as a hodder and filler at the Crump Meadow colliery and over the next 30 years worked through all the various phases colliery work ending up as a hewer. He married Mary Baker in 1878 and went on to have five children.
In 1904, now exhausted by work in the pit,  he obtained a job at the Cinderford Co-operative Society as a baker's clerk where he remained for 25 years. He organised the Co-operative Employees into the Amalgamated Union of Co-operative Employees and was instrumental in bettering their working conditions and pay. At the same time, he continued to be involved with the FDMA as one of its auditors.
He held many public positions including; a member of the Westbury Board of Guardians, Chairman of East Dean Parish Council, a member of East Dean District Council where he was Chairman of the Housing Committee, a School Manager, a Trustee of the Cinderford Miners' Welfare Hall and a magistrate.
The Gloucester Journal 3 August 1929 asked: "what has your long service on behalf of your fellows impressed upon you the most?" Frank replied:
"The need for tolerance.  When I was young, I was, like most youths, keen, impetuous and as, I now believe, somewhat intolerant of the opinions of others. Now I realise that there are two sides at least to every question, so my motto is: Give the other side a fair hearing, and Reason is more likely to prevail."