The Life of Warren James is an account by a 'Resident Forester' of the 1831 uprising in the Forest of Dean led by Warren James. It was printed only a few months after the events and has been used as a primary source for historians studying the events surrounding the riot. In my opinion, it was written by a member of the local gentry or the ruling elite and is full of tropes and some half-truths. I think the purpose of the text was to justify the action taken by the authorities against the Foresters who rebelled. The underlying narrative attempts to patronise and undermine the character and motives of rioters and their "reputed champion", Warren James. So, it must be read with caution.
Foresters are initially described as "bold", "daring", "wild and free" with "lion-like courage". Their "externals were rough and unpolished" with a "total ignorance of refined life".
The Resident Forester quotes Lord Gage who thinks that actual poverty was unknown in the Forest of Dean and argues that Foresters were "highly privileged with pious ministers" and "the poorest among them is better off than any town mechanic; and the richer are petty princes, living on their own lands, rent and tax free."
However, at the same time, the Resident Forester tells a story to illustrate how Foresters were 'patriotic and loyal servants who followed their masters with unquestioning deference'.
Those involved in the riot were regarded as "misguided", "misled", "mistaken", "deluded" in defending what "they imagine to be privileges" but actually "trampling on the laws of their country" and contrasted with those with "heads more enlightened than their own."
Warren James is characterised as good but as a naïve and simple "sentimentalist" easily influenced and misled by a "malign being" from London. He is contrasted with another rioter John Harris who was "a wretched man", "void of principle or feeling" and "the terror of the neighbourhood".
And the Resident Forester finally adds that events would have turned out differently if only the Foresters had acknowledged that "the advice given them by Mr. Machen was in the spirit of truth and friendship, but 'twas only believed when it could not benefit them".
So who was the  Resident Forester?  Could he have been Philip Ducural, the man who issued a warrant for the arrest of Warren James? He was a well-known poet and author and therefore skilled at creating a narrative and telling stories.
See:                                                                             https://eprints.glos.ac.uk/9466/1/9466_Jason_Griffiths_%282019%29_PhD_thesis_Reading_the_Forest_A_history_and_analysis_of_Forest_of%20_Dean_literature.pdf
The following text has been transcribed using language, spelling and punctuation as close as possible to the original document.
Ian Wright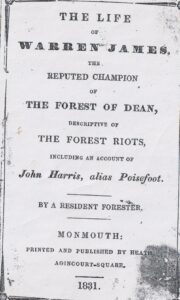 As the disturbances in the Forest of Dean are become the object of intense interest, both from the novelty of their nature, and the strict line of justice that has been adhered to, in regard to those implicated in the transaction, it may not…perhaps be amiss to consider the motives by which those misguided men were influenced.
Others, who, in various parts of the kingdom have been denominated Rioters, are looked on with detestation and horror—but far different are the sentiments evinced for the Foresters.
Whilst we view them with a disproving eye as trampling on the laws of their country, the tear of commiseration will shed down the cheek of humanity, when pondering o'er the woes of a race of men so firm, so unbending, so devoted—in a taken cause!
The Foresters were ever a distinct body of people; they lived on their own were governed by their own laws and stood firm for what they imagine to be privileges. Bold, daring and truly hospitable, was ever the character of these men; whilst there was everything to apprehend from their sudden resentments there was nothing to fear from cherished sense or recollection of a wrong.
With spirits wild and free as their own woods, hearts open and generous, their externals were rough and unpolished. They were at once the dread and veneration of their neighbours; so that the cousins of Hereford and Monmouth would at any time prefer the right hand of fellowship to that of trying their prowess, even in what they term a friendly row. Their muscular strength exceeds that of perhaps any living race of men; and it is not surprising to those acquainted with them, to see a native of the Forest, under the middle size throw with apparent ease, a man twice his weight and almost twice his size, who encounters him in his wrestling matches, of which noble exercise they are most passionately fond. As soldiers or sailors, they were never obscure characters—their lion-like courage shone forth conspicuous—no idea of bodily suffering deterred them, which the following anecdote will illustrate more clearly; it was related to me by the brother of a general officer, who shed his blood on the plains of Waterloo: —
A native of the Forest had engaged in the general's service, during the short interval of peace, in 1814. At the renewing of hostilities with France, general………  was ordered again into actual service.  George begged permission of his master to enlist; this was refused. "You shall go with me George," he said, "but I want you near my person, which if you enter into service will be impossible." "Ah sir," said George, "that is all I want—to be near you, it mayhap you go to battle." George accompanied his master; but during several skirmishes in which the English troops engaged, George abandoned the host assigned him (as baggage, guard), at the risk of his own life, to view from an eminence his master's party; but when the last decisive day arrived, and "all who nobly stood or bravely fell" were met, George threw himself on his knees, and in terms rendered eloquent from the energetic force with which they were spoken, besought permission to fight by the side of his brave master. The general could no longer withstand so noble a request; he honored him by uniting him with a party whose valour rendered them so conspicuous on that occasion. When near the close of the day, he found his master faint from wounds and fatigue, George brought him a small bottle of wine and a biscuit. "George," said the general, "have you anything to eat yourself ?"—"Pray eat on, my dear master," was his answer; "never mind me, I am but one, and a poor one too, hardly of any use; if I go, another can fill my place, but you, my master, thousands live and act in you; if you fall"—here his voice faultered, and the tears never shed for himself chased each other down his manly cheeks, at the thought, "if you fall, what should I live for?"
The master was worthy of his servant— he insisted on sharing his bread and wine with his faithful friend. He left his master, and shortly afterwards both were severely wounded. Turning to a comrade, who had pledged himself to remove him from the scene of action, and who approached to raise him from the ground— "Hot work this, Jem," said the fallen hero, "but never mind, 'tis for the honour of old England; but where is the general, tell me? Look out, and see where he is—ah! He is off his horse; fly! never mind me—see what you can do for him." "But stay," said his comrade, "the enemy will be here."—"Go," replied George, "I will not be moved, no, not an inch, till I see my master is no worse off than myself."
The soldier found the general had been carried off deeply, and indeed mortally wounded: he returned and related to George what he had learnt. "Thank God then," said he, "we shall die together, for I feel I've not long to live; make what haste you can, that I may see him—I think if I could see him but once more, I could give three cheers for old England."
We regret to say he did not see his valued master again, for upon moving him from the ground, the wounds opened afresh, and in a few moments this brave fellow breathed his last, nor did the noble general survive him but two hours.
Their total ignorance of refined life was, a few years ago, a subject of merriment to their more polished neighbours. It is related of one of them well known in the precincts of the Forest, that being at an inn, and calling for a pint and pipe, the servant brought them, and also placed by his side a spittoon. John fidgetted for some time in his chair, and then gently removing it with his foot, expectorated on the floor. The girl, who prided herself on her house-wifery, again placed the metal dish at his feet; John now lost all patience, he could command his temper no longer. "I tell thee what, wench," said he, "if thee doesn't move this cullender away, curse me but I'll spit in him."
Such are the outlines of the characters that are coming under our consideration. In later years, however, the spirit of the Gospel, which has been preached with evangelical purity, has caused a prominent change in the customs and manners of this interesting race of people. It has here, as in every place where its power is felt (from the cheerless abode of the benighted Esquimaux, to the torrid zone of western Africa), diffused its benign influence; and those men (who a few years ago, when ember died, inspired the surrounding country with terror), were viewed in the late disturbances only as a misled, mistaken, people—but without (except by those individuals whose office called upon them to oppose their proceedings), the least idea of personal danger. It must ever form a subject of regret to a benevolent heart, to reflect, that it could afford gratification to heads more enlightened than their own, to lead into error and ultimate exile, a set of men who, they must have been aware, depended on their judgment for direction, in regaining what they imagined their birthright.
Proud of their birth—stern in their idea of right and wrong – 'tis not to be wondered, that whilst they considered themselves torn from those privileges, they should stand up to a man to defend their disputed cause.
The Forest of Dean lies in the western part of the county, is of a triangular form, included between the Wye, the Severn, and the small river Leydon. It contains 30,000 acres, is twenty miles long and ten broad, and was anciently overrun with woods. The oaks that grow where the wood is still preserved, are reckoned the best in England, and from this Forest most of the timber formerly employed in ship building was brought, which was so, well known to the Spaniards, that whet they fitted out their armada in 1558, to invade England, those who had the direction of that expedition were expressly ordered to destroy this Forest, as the most effectual way to ruin our marine.
But since the discovery of many mines of iron, and the passing of several acts of parliament for erecting forges for the working of them, these woods became gradually reduced, and several towns and villages have been built in the Forest, where the manufacture of iron is carried on.
However, in the reign of Charles II, an act was passed empowering certain persons to enclose great numbers of trees, for the preservation of the timber; and some years ago, many cottages which had been built in and near the woods, were ordered to be pulled down, because the inhabitants damaged the trees by lopping them for fuel. As forests are the property of the crown, the king has a large and strong building in the midst of this Forest, where there is a swanimote court, to preserve the vert and venison—it is called the Speech House; the judges of it are verderers, chosen by. the freeholders of the county. The miners have also a court in this Forest, held at the castle of St. Briavels, where they have laws of their own, proper for the carrying on of their affairs and deciding their differences, in which there used to be a peculiar custom of an evidence's swearing by touching a Bible with a kind of consecrated stick, and not with his supposed defiled, because dirty, hand. In it is a prison for offenders. The government of this castle has always been given to some of the nobility. Many of these ancient forms are now fallen to decay.
It was a mistaken idea relating to the act of 48 Geo. III. c. 72 (by which authority the Forest was enclosed, the provisions of which were the same as those of 20 C. 11. c. 3, by which it was enacted that eleven thousand acres of the Forest should be always set apart for the preservation of timber; and that the lords of the treasury might, when they saw that the timber was out of danger, and properly preserved from being injured by cattle, throw open to the public), that induced the people to take the steps they did.
As a great deal of the timber was considered by them to be already sufficiently strong, they supposed it their privilege to have the benefit of such land for the use of their cattle. The surveyor general of the Forest, E. Machen, Esq., was of a different opinion; he saw the fences could not be thrown down and the cattle admitted, without exposing the young trees to considerable damage. Now that either party were right, it is not for an individual to decide—the committee formed for that purpose will, in the limited time, no doubt determine; till then the point will be contested. It is much to be regretted this investigation had not been entered into before so many families were brought to misery and want, by being deprived of the services of those who were their support had this, I say, been done, none but madmen would, in open violation of a known law, have proceeded to the lengths that Warren James, and his infatuated companions were induced to do.
Warren James was born in the Forest of Dean, in the year 1794. From his youth he was of a mild, reserved, and peaceable turn of mind, if anything, rather inclined to melancholy; he was what would, in refined society, have been denominated a sentimentalist. He was of the most abstemious habits, and was often known to eat, after returning from church, on a Sunday, morning a dinner formed solely of vegetables and repair thither again to attend the afternoon service. He disdained any show in apparel; and this has on some occasions exposed him to not a little inconvenience. It is related of him that on attending a neighbouring fair, for the purpose of disposing of a horse, his appearance was such as to excite suspicion as to how the animal came into his possession, and he was in consequence held in custody, until satisfactory evidence could be produced on his behalf.
He was his mother's favourite son; she had been for some years a widow, and Warren resided under the same roof with her, to the day of his heading the party in the demolition of the Forest boundaries.
Sometime previous to the period mentioned, a sister of his went to reside in London, and from the acquaintance there formed, was led to believe the Foresters were a people denied their privileges and deprived of their birthrights; this was imparted to her brother, who at once felt it incumbent on him to take a prominent part in endeavouring to redress their wrongs, as to his judgment they always appealed in any point of difference or dispute, for he was not a man to act without much deliberation; uninfluenced by passion, when once he had determined, no power or argument could shake him from his purpose.
He, on the first intimation of these rights (as they were called), convened a meeting at the Speech House, from which a deputation, consisting of such men, as were thought most fit for the office, was chosen to wait upon lord Lowther; money was collected for their expenses, and they set out on their important embassy. What the nature of the interview was, it is not for me to say, but they returned with the fullest confidence of restitution.
It appears that Warren James had long, though secretly, brooded over the desired delivering himself and countrymen, from what he felt and was persuaded was a thraldom; but this was not with the wild impulse of riot, but the calm determination of a man willing to resign private benefit for public good, as he has been frequently heard to say he would willingly give up his own life, if by that means he could gain his countrymen their liberties. He felt it a duty—he viewed it as an honour; and the information having first come from his sister, his companions looked up to him as their grand spring of action—as the champion of their long-lost liberties.
Thus, called upon, he could not (without acknowledging doubts which do not appear to have existed), recede from the point to which he had brought so many: his London friend, falsely so called, encouraged this desire; and Warren was firmly persuaded that he should find friends. among the higher powers.
Whatever form or name is possessed by the malign being who thus urged him on, it is a subject of regret that he cannot be held up to public odium so fully as he deserves.
Early in the spring, a person who resided near to Warren, (or, as he is generally called Warry,) had occasion to speak to him respecting the trespass of his cattle. "Oh," said he, "never mind, in two months all will be free—the inclosures will be thrown open, and we shall have plenty of free land; the twenty years are now expired that they were to be closed." This neighbour expressed his doubts as to the legality of such, undertaking—"Come with us," said he, "You have nothing to fear; the King and Lord Lowther is on our side."
About a fortnight previous to the eighth of June, on which day they believed the term of years to expire, Warren engaged a printer, named Stinson, residing in the town of Coleford, to print him fifty copies of a notice, announcing a meeting of the Free Miners of the Forest of Dean, on Wednesday, the eighth day of June, for the purpose of opening the Forest, and asserting their right of common, of which they had, as they said, been so long deprived. Those papers were signed, "Warren James." They were posted up in the most conspicuous places; and that they might be more extensively circulated, a number were given to the attendants on a funeral from Whitecroft, which took place about that time.
In consequence of this, E. Machen, Esq. issued a cautionary notice, warning all persons who had any value for their liberty, against joining them in their work of destruction; and advising those who were quietly disposed, against letting curiosity: take them to the spot, as in that case, the innocent would be likely to suffer with the guilty.
On Sunday, the fifth of June, Mr. Machen sent for Warren – "How can you think," said he; "of misleading the people in this way? What are you doing? You will bring yourself and them into trouble." "Oh," he replied, "we are all right: the Forest was given up to us in parliament last year." A number of persons were assembled round them, to listen to what was passing; Mr. Machen turned round to them. "This is absurd," said he; "if you know yourselves to be drawn on by a man who can say nothing more to the purpose than this, it will be your own fault." Mr. Machen remonstrated with him some time, begged him not to mislead the innocent, and told him if he wished to be informed as to the laws relating to the inclosure, to come to him, bring anyone he chose with him, and he would read to them the Acts of Parliament. "Oh," said Warren, "I have an act of parliament: l am determined to go on." Mr. Machen asked him, why he did not bring it down, and show it him; he replied, he would. Mr. Machen then left him, as he could not dissuade him from proceeding in the way he had marked out.  He was then asked by the assistant surveyor when and where he intended to begin. He replied, "on Wednesday morning, at Whitecroft, just below Park Hill enclosure."
The lenient manner in which these communications were received, inspired the more timid with fresh courage: their champion had openly declared his intentions, and still all was quiet—no effective measures were set on foot to prevent them from putting their designs into execution. "Surely then," said they, "we must be right; they would prevent us if they could, but this they do not attempt." New life seemed to animate them—fresh vigour to impel them to action; and they waited with impatience the day that was to restore to themselves and their posterity, their long-lost liberties. A few days, and they would emerge from what they now looked on as slavery—expel usurpers, and supply their posts out of their friends and brothers. The time that intervened was that of deep discussion; 'twas a point no one could determine—everyone was interested in—and all wished, yet almost trembled at, what might be the result.
The more calm part of their neighbours were of opinion, that their mode of proceeding was what would lay them open to the greatest danger. All wished if they had been deprived of their liberties, that they might be restored them; yet this was a way likely to involve them in the utmost perplexity, whether they succeeded in their endeavours or not.
At length the memorable day arrived. Mr. Machen went over to the residence of Warren James, between six and seven o'clock in the morning. Warren was not in the house, but on Mr. Machen sending for him he came, accompanied by twelve or fourteen persons. Alter remonstrating with him for some time on what he had in agitation, he said, "You tell one person you have an act of parliament, and another that you have a charter; if you have any document, why don't you produce it?" He replied, "I have a charter." Mr. Machen then inquired where it was. He answered, "In that house," pointing to his own house; "and I will get it." He entered the house, but appeared in a few minutes, bearing on his shoulder a pickaxe; which, as he produced nothing else, we supposed to have been the charter to which he alluded: He directly turned off, followed by several persons who were assembled; they proceeded until they came within a hundred yards of Park Hill enclosure, where they took their station. Parties of about ten or twelve each, were seen pouring in from all quarters; they were hailed on their approach with loud cheers, and much shouting, by those already assembled.
Their number soon increased to nearly two hundred: about eighty of these were provided with either spades or pickaxes. H. Davies, Esq., banker, of Monmouth, who was on the spot at the time, went up to the party, and asked them what they wanted. One of them directly came forward, and gave him a paper on which was written—" King William and Reform! Our Rights, and nothing but our Rights!" " And that," said he, " is what we want." Some complained that foreigners came to the Forest without coats, and presently were seen riding about in their gigs. One of the men said, that they would tear up the railroads, and drive all the foreigners out of the Forest.
Mr. Davies asked them what could induce them to attack the enclosures, as his brother did not employ foreigners. They however continued by the enclosure gate, where the special constables were stationed, flourishing their pick-axes round their heads, and striking them violently into the ground. They then rushed in a body towards the enclosure. Mr. Machen advanced, and forbid them touching the bank. Warren now made a rush, and struck into it with his pick-axe. One of the mob called out, "There's the first blow": they then fell to work, some with tools, others with their hands.
Mr. Machen read the riot act, and, as they still persisted in tearing down the fences, it was again read by another magistrate, in about the space of twenty minutes; but all attempts on the part of the magistrates were alike ineffectual: they continued their work, and by ten o'clock they were four hundred strong. The assistant surveyor, going up to Warren, told him he was afraid it would go badly with him: he replied, he did not fear, that he had the law in his own hands, and said, "I would advise you not to meddle with me or my party, we are too many for you." The special constables were all unarmed, and any further interference, when their numbers were so unequal, was deemed highly dangerous. Before the day closed, they were joined by about eighty women, who seemed still more intent on the work of destruction than the men.
Their mode of proceeding was this; they took few yards at a time, which a large body rushed on, and by mere muscular strength overthrew. This appears still more worthy of note, from the thickness of the walls, which were mostly composed of clayey earth, in some places seven or eight feet thick. Gorse of many years growth had strengthened these boundaries, by shooting down roots into the earth of a prodigious size, and interlacing its branches in such a manner on the top, that it appeared to a spectator to require a work of time to effect its overthrow, and not that of two or three days. They first cut away some of the strongest of the roots, and then proceeded in the way mentioned, tearing down all before them, and at the fall of each fresh piece giving loud and repeated cheers.
The second day they were joined by thrice the number, as the proceedings of the former one had inspired them with fresh courage; and so far did this influence prevail, that several gentlemen in the county supplied them with hogsheads of cider, and every necessary provision, which Warry was busily employed in conveying to the spot. It was them deemed necessary to call in military aid, and a party from Monmouth, consisting mostly of pensioners and recruits, were marched in, to put a stop to their invasions.
But this plan defeated its own purpose, as their (by no means imposing) array was calculated to inspire anything but terror; and their reception in the town of Coleford proved that they carried good humour with them wherever they went. The Foresters having had intimation of their approach, hastened down to welcome them, and whilst they waited in the yard of the head inn, the "Angel," for orders, greeted them from without by the appellation of the "ragged regiment," and invited them up to the Forest, to see them at work.
We shall not attempt to fathom the motives which made those men prefer remaining in a large room over the market-house, together, to that of being billeted at the different inns in the town. Be it as it may, this was their choice; they all spent the night here, having a guard constantly on duty at the door. The Foresters were well aware of this timidity on the part of the soldiers, and on Thursday evening the town of Coleford was full of them. They went to the different houses to ask for food and drink, which, from the strengthened idea of the legality of their proceeding were freely given.
Thus, with spirits elate with drink, the hope of conquest, they sallied forth running to the spot where the soldiers were quietly maintaining their watch, with a tremendous shout. No language can do justice to the feelings of the inhabitants in this crisis, as it was fully expected a serious disturbance would ensue; but they contented themselves with shouting, talking and laughing, at what they termed "ragged regiment," until about twelve, o'clock, when they all retired in peace.
The next day the small military party were very prudently marched out of the place, as it was evident their presence only served to make "darkness visible," or, in other words, to show how futile was their power. Their departure was no sooner announced in the Forest, than the most enthusiastic joy was felt. They considered that they had now completely prevailed; and their rights were by this bold effort restored them. They looked on themselves as masters, where they had long been servants; this they expressed by pushing round the cider (we do not say the glass), with the greatest hilarity. One proposed the health of their champion, "Warry,"— another, "Confusion to all foreigners,"—and a third, more inclined to be witty, ex-claimed, "Let us not trample on a vanquished enemy; here is a quick march and better quarters to the ragged regiment." This was drunk with loud and repeated cheers.
They then proceeded to the house of Mr. Gold, where they soon levelled his boundaries with the ground, turning in the cattle to browse on the flowers and shrubs which surrounded his dwelling, remarking they would teach, the foreigners to come and drive over them.
They afterwards divided themselves into parties of about a hundred each, one of which was dispatched to the residence of Mr. Gething, the sub-agent for the Park End collieries. They told him they were come to pull down his bounds. Mr. Gething, who had wheat round, his house; calmly represented to them the injury he should sustain, if the wall was taken down: Let it stand," said he, "until, my wheat is in, and then I pledge my word (and you all know you may depend on me), to take it down immediately, and lay it open to you." Some were for proceeding with their work, but the majority were in favour of the speaker, and they left his property untouched.
Another party proceeded to the residence of Mr. Turnbull, one of the Forest keepers or as they are generally called, woodmen where they began to demolish his bounds. Mr. Turnbull came out and expostulate with them, as his wife was at the time in a dangerous state of health, and he very justly dreaded the consequences that might result from such measures. They were no sooner apprised of this, than they, to a man, turned about, and walked quietly away—one of them remarking, "We don't want to harm: the woman; but it is to her you owe your escape—for mind—soon as she's well, we'll have 'em all down, mind that."
So active and so unanimous were they in their undertakings, that by Saturday night; there was scarcely a mile of unbroken wall to be seen in the whole Forest. To look at the destruction of so much boundary in so limited a period of time, would scarcely admit of belief, and particularly from their extreme strength, as in many places they appeared fit for fortifications, but in three days were level with the earth. It. was reported on Saturday evening, that a regiment of horses would enter the Forest the next day, to put a stop to any further proceedings. This report becoming current, they called a council of war when all swore to stand to a man. Warry endeavoured to inspire them with fresh courage, "We have nothing to fear, for not only, the King, but the duke of Beaufort is on our side—he is the poor man's friend, and will see us righted". They continued at work, men, women, and children, until, a late hour.
Several farmers had with the most premature boldness driven their cattle to the Forest, and expressed their delight that the pastures, so long the property of the crown, were now become public. Some, more rural in their taste, set up a gipsy tent, and entertained their braver friends with compliments on that achievement they were themselves too cowardly to engage in, but of the benefits of which none were more eager to partake. But those high-flushed expectations were now to be broken in upon.
Scarcely had the inhabitants of Coleford returned from their church on the Sunday morning, when their ideas were diverted in afresh channel by the imposing appearance of the advanced guard of the third; a regiment of dragoons. In a moment all was anxiety and dread, as to what might be the result of this visit. It was our brave defenders, our countrymen, that were entering—but for what purpose? to destroy perhaps our friends and brothers, or to fall by their hands—in either case, how dreadful. It had been reported to the commanding officer that the inhabitants of Coleford were in the utmost dismay, and added, "Put your men on the trot, or ere you get there the streets will run with blood." They, therefore, advanced with drawn swords, prepared for what was revolting to their feelings (intestine broils), but were pleasingly surprised on their entrance to find the town in perfect peace, and without the slightest personal fear, as they were in the most perfect cordiality with their neighbours; and though their present mode of conduct was of a formidable nature, yet they felt they were in no danger from their proceedings as far as regarded themselves.
Warry was perhaps the least of all concerned. He attended the services of the Church at Park End twice that day, and talked of the entry of the soldiers with the greatest coolness. "They want to frighten us," said he, "but we have nothing to fear; let me only live free till after next Thursday, and then I don't mind what all the regiments in England can do; only stand firm, that's all".
At an early hour on Monday, his grace the duke of Beaufort, the marquis of Worcester, and every magistrate and gentleman of influence in the neighbourhood, assembled at the head inn in the town of Coleford, to take into consideration the measures necessary to be adopted for putting a stop to the further destruction of property in the Forest. Several from Monmouth, together with some of the inhabitants of the town, were sworn in as special constables.  The party of foot that were before marched out, returned again to remain in the town. Two police officers from London arrived to assist in the apprehension of the offenders. Several scouts who had been sent out into the Forest; returned with information that they were still continuing their work undismayed. Hundreds upon hundreds were busily employed in the various parts, and the order for the day was, to have up the railways, and take down the keepers' lodges and woodmen's houses, erected by order of government. This bold avowal called for an immediate and effective measure, as the interest and even lives of individuals would in that case be laid open to danger.
It was first proposed to get possession of the person of Warry, and the other ring-leaders, to interrogate the former as to his authority, that, if possible, those persons who had misled him, might be brought to suffer the punishment so justly their due. The appearance of the town was that of a seat of war, and there seemed to be a suspension of all business. At nine, the select party set out in the following order;—first, the special constables—next, a large party of the woodmen—then, the marquis of Worcester, and several gentlemen, who felt themselves called upon on this occasion; the company of the third dragoon guards followed, with a great number of the inhabitants: To a country so unused to military display, the imposing appearance of the third dragoons produced a powerful effect.
Two lads, who had accompanied as spectators, were seen to run forward for the purpose of giving the alarm, when P. Ducarel, esq. (who had before observed them very busy in demolishing the fences), ordered them into custody, and they were sent back into the town to be detained for examination. Feelings of consternation now pervaded every heart, as it was confidently expected that the Foresters would not give place, so that bloodshed on the one side, or both, appeared inevitable. This period of suspense was broken in upon by a request, that a party might be sent to Ruardean Hill, to prevent further damage, as, though they were aware the military were advancing, continued at work with increased vigour. The Foresters, true to their several appointments on the Monday morning, looked round in vain for their friend and champion. He was not to be found; and on enquiry, a friend of his informed them, that it would be their ruin if he was taken prisoner before Thursday, but then he would come forward and assert their rights. How far this gained ground among them is not known; he was not there to invigorate them, and by the time the party reached the Forest, not a man was to be seen. The disappearance of their champion had raised some doubt in their minds, as to the legality of their claims.
A small party of soldiers accompanied the marquis of Worcester to the house of Warry, but he was not to be seen, though the bed was still warm, and his watch in the window going, so that it was evident he had but just made his retreat as the party were advancing. The officers immediately proceeded to search the house; and opening a small box several letters were discovered, which were written by the duke of Beaufort, endeavouring to dissuade him from his purpose, telling him to lay his own and neighbours' grievances before government, and not to bring himself and them into trouble, by acting, so contrary to the laws. These letters being made public, the fabric on which these poor deluded men rested fell to the ground.
They had been given to understand that the noble duke was agreeable to their proceedings, but they were now undeceived, and fully concluded that there existed no foundation whatever for their former high dependence; their intentions were frustrated, their hopes destroyed—and those very men, who but yesterday were lifted to the clouds with the hopes of success, to-day were seeking a hiding place in the most secret recesses of the very lands they had hoped to pass their lives on with tranquillity, as the undisputed masters.
About the middle day, the party returned with seven prisoners, who were brought in handcuffed to the legs of the soldiers; they were put in confinement at the Angel inn, and consisted merely of those who had been engaged with the others, but none of the principals in the riots. In the afternoon another party went out to Ruardean Hill, but returned with only one man as prisoner, who though they had continued their depredations until the forces appeared in view, yet contrived to evade their pursuit. It was a heart rending spectacle to behold mothers, wives, and children, waiting in the street the return of the several parties, dreading lest they should behold their beloved relatives brought in manacled, yet fearful of betraying their feelings, aware it would be exposing them to still greater danger—but the agonized look and stifled sob plainly spoke, "Is he with them?" One poor woman, whose only son (her sole dependence), was taken, was obliged to have a chair brought her, for at the sight of him she had sank overpowered by the pressure of her calamity.
Several were seen following the soldiers, enquiring, "What will be done to them?" who with that spirit of courtesy for which the third dragoons are so eminently distinguished, endeavoured to afford consolation to the poor sufferers, by assuring them that the punishment of those then in custody would be very light. Indeed the conduct of this body of men cannot be too highly spoken of; the calm humane deportment, their regret at being obliged to act against their countrymen, and yet their firm adherence to the line of conduct it was deemed proper to adopt, united to the universal good behaviour and polished manners of each individual, caused them to be treated at every house with the most affectionate respect, even where their presence was an actual inconveniency. Orders being given for them to proceed some to the Speech House, others to different stations round the Forest, they were parted from with the utmost regret, and a regiment of foot came in, to assist in the apprehension of other of the offenders; these had orders to be ready at a moment's notice for marching.
Tuesday, the party stationed at the Speech House brought in more prisoners.
Wednesday, intelligence was received that Warren James would give himself up, if bail could be taken for him. This, after a meeting of magistrates had been convened to consider of it, was refused, as the nature of his offence was such as to render it highly improper. Communications being received that Warry was supposed to have taken refuge in a coal pit; at a short distance from the place where he resided, a party of the foot soldiers were taken to the Forest, for the purpose of apprehending him, but how to get at him was the grand point to be considered. It was not known who were his companions in such a place, and these who descended would be entirely in their power, but this was obviated by information gained (by the man who was found hardy enough to head them in this enterprise), respecting a signal given by the sister of Warry. About twelve at night this signal was given by William Watkins from the mouth of the pit, when the voice of Warry, with which he was well acquainted, called out, "All right" he was answered by the same, words, "All right!" and immediately drawn to bank.
As the soldiers were, agreeable to the orders they had received, lying on the ground, he did not immediately perceive his danger, until the muscular gripe of Watkins startled him to a sense of his situation. He directly exclaimed, "I am betrayed". Although instantly surrounded by the soldiers, he did not lose his presence of mind, but said calmly to the captain of the regiment, "I'm betray'd by treachery; was not this the case, nine hundred men would have surrounded and defended me with the last drop of their blood! but do your duty; I have nothing to fear." He was brought in before the people were stirring, and properly secured. Being asked if he would not like to exchange his pit dress, which was almost as black as the coal he worked, he replied, looking at his sleeve, "No, I shan't; my dress is good enough for the company I am going in." When brought before the magistrates, he evinced not the slightest trepidation; nor could anything be elicited from him to throw further light on the subject; he merely said, "If I have done wrong, I, not you, must suffer." He was then conveyed to Gloucester castle, escorted by a party of dragoons. Here, then, was the decisive blow to all his followers, who beheld their errors at too late a period to retrieve them. They saw that the advice given them by Mr. Machen was in the spirit of truth and friendship, but 'twas only believed when it could not benefit them. Their hopes of future good were exchanged for certain present evil. Their wives and children must for a time be left to the mercy of the world, and themselves either prisoners or exiles.
Several more were taken in the course of the next day; but as Coleford fair was on the 20th of June, the regiment had orders to leave the town, to make room for those who were expected on that occasion at the several inns; they therefore proceeded to the different stations assigned them in the neighbouring villages. Each succeeding day added to the number of prisoners, and though the neighbourhood was restored to a sort of tranquillity, yet the sufferings of the poor Foresters were such as to affect every individual with the deepest sympathy. The magistrates at length issued a notice offering pardon to all concerned in pulling down the enclosures, except the actual ring-leaders, if they would give their work—some for the term of a month, others for that of a fortnight; according to the part they had taken in the destruction of the. fences.  This offer was accepted with the utmost gratitude, and most of those who were implicated were thus once more re-stored to their families.
Among the many who were looked upon as ringleaders, the name of John Harris, or as he is better known by that of "Poisefoot," stands conspicuous; not for any prominent part he took in the disturbances, but for the punishment to which his subsequent conduct has exposed him. Perhaps no greater proof can be adduced to show how low human nature can sink, than is exemplified in the life and conduct of this unhappy man: he would, most probably, have rested in obscurity, had his name not been in such a striking manner associated with the Forest disturbances, as to lead to a general supposition that he was himself a forester; but they disown him, and it is their pride that they can with justice do so.
Harris is a native of Wales, but has for several years resided at Berry Hill, a distance of about two miles from Coleford. His character was such as to make him the terror of the neighbourhood—he was a bad husband, a worse father, and a dangerous companion; it was his constant custom to punish his children at night if they could not furnish him with some fruits of their dishonesty during the day.
It is easy to judge what effect this was likely to have upon them; they grew up what he desired to make them. His conduct towards his wife was what might have been expected; alike void of principle or feeling. His methods of raising money were sometimes of a singular nature some of which I will quote.
In the harvest of 1829, he applied to Mr. Teague, a respectable farmer, residing at Carter's Piece, for permission to assist him in reaping his wheat; by that means, to entitle his family to what is called "friendshipping"; that is, to allow them to glean in the fields during the time of cutting the wheat—which liberty is, generally, in this country, granted to the families of those who give their labour on the occasion. Mr. Teague, although he did not like the man, thought it best to be on good terms with him; and, therefore, acceded to his request. He came, and had the modesty to bring only his wife and five children with him.
At night, Mr. Teague informed him that his further services would be dispensed with, as his labour cost him more than he could afford. Mr. Teague saw nothing more of him during the harvest; but some months after, was not a little surprised in receiving a bill, charging him seven shillings per day, for two clays' labour. On Mr. Teague's making enquiry what it was for, he answered, "For reaping." But," said he, "'did not all your family lease?"—(glean). "That," said Harris, "argues nothing; and as for you not seeing me on the second day—Why, I was on ground if you did not, and if you don't pay; me, I'll put you in St. Briavels Court for the money." He kept his word, but was thrown, with costs. At the same period, he had a trial with a Mr. Raiford, for the payment of a hogshead of cider, which he had neither received, or, indeed, ever heard of, until an application was made by Harris for the money.
But this being, sunk so low, was an object of intense interest to the excellent and indefatigable minister of the church of Berry Hill, (the Rev. Mr. Garnsey,) who endeavoured, by every possible means he could devise, to awaken this wretched man to a sense of his awful situation; but all its vain. He sometimes seemed to feel, and always appeared thankful; so powerful is advice given in the spirit of true Christian affection; but his conduct remained unaltered: he could never be prevailed upon to pay a debt, unless compelled by law.
The disturbances in the Forest were such as in effects, not in cause, suited his peculiar taste: he was one of the foremost with his tongue and hands, but like the others, made his escape from the scene of action, and retired home; where he was heard to swear, he would not be taken alive. A warrant was issued for his apprehension; but the known desperation of his character, made this undertaking to be looked upon in no very pleasing point of view. But William Watkins, the same who apprehended Warry, and who had been sworn in a special constable, had hardihood enough in his composition for offices however difficult and perilous; and he proceeded (accompanied by a keeper, of the name of Powell), to Harris's house. A person, named Smith, also repaired there, to assist in his apprehension.
As they approached the house, Harris was eating his dinner: Watkins said, "Harris, I have a warrant against you, for pulling down the enclosures." Harris came toward the door, and swore he would stick the knife he held into the first that came inside the house. Watkins, who was a man of a resolute turn of mind, was not to be deterred by threats, and he entered, followed by his assistants. "Harris", said he, "you had better be quiet, and come along with me: you may easily get out of it by doing a little work, or finding bail at sessions." Harris replied, "Who the devil will be bail for me? Get out, I tell thee, or it will be worse for all of ye." Watkins replied, "This is of no use; I am come here to take you, and will not quit without you; so come quietly, it is as well." Harris, at that moment, exchanging his knife into his left hand, and thrusting his right under his frock, pulled out a pistol, and swore he would blow out the brains of the first who came near him. He then cocked the pistol. Watkins attempted to get behind, for the purpose of securing him by the arms; but Harris at the moment turned round; exclaiming, "Keep Back!" and snapped the pistol at Watkins's head: a spark flashed close to his eyes. Watkins immediately caught him in his arms, and threw him on the ground. A violent struggle now ensued he was thrown down three several times, and in one of them, his face was cut against a chair; but he was busily employed, even when down, in cocking the pistol, which, alter some struggle, Powell succeeded in wresting from him; but so determined was he, that he made a desperate attempt to regain possession of it. He was then properly secured. Powell unloaded the pistol in the presence of the magistrates: there were two balls, and a great deal of powder in the barrel. Harris complained that ill language had been made use of to provoke him; but this charge is without foundation. He was immediately committed to prison.
Thus, two men, as opposite as human nature could possibly be, became inmates of the same prison, charged with similar offences.
Little did Warry foresee when he stepped forward as the champion of his neighbours' liberties, that he should become for life the associate of such a man as Harris; but we cannot say where we will stop when we overstep the bounds of propriety. The trials which took place at the assize at Glocester, excited considerable interest. Some were of opinion that Warry would, then and there, adduce such reasons for his conduct, as would exonerate him from the charge of riot, but it was not the case; he made no defence, nor did he attempt to implicate his advisers. His counsel (Mr. Charles Phillips) endeavoured to prove that Warren had not remained an hour after the reading of the riot act; but the only thing advanced by himself was, simply to say, he remained but a very short time afterwards. Mr. Justice Patteson overruled this point, as no evidence could be adduced to prove that he did actually retire; and even if he did for a short space of time during the hour, he could not be protected from the penalties of the statute under which he was indicted, if it was proved that he afterwards continued to act in conjunction with the mob. The jury, after a short consultation, found the prisoner guilty; but recommended him to mercy on account of his former good character, which was corroborated by the most unexceptionable evidence: judgment of death was then recorded. Whatever might he the internal feelings of Warry, he maintained his firmness throughout. Although fondly attached to his aged mother, and, as a man of penurious habits, no doubt his cottage and land were also near his heart: he calmly said to one who spoke to him, "I don't care if they hang me, only, let it lead to the good of my countrymen."
Who, that reads these pages, but must feel for the heart-broken widowed mother of a son, who, had his fortitude been evinced in a better cause, might justly have been her pride and boast; but her son she never saw from the time he secreted himself in the pit, to elude his pursuers, nor can she expect it, until she meets him in another world.
Harris, on his trial, attempted to prove that the constables had treated him with undue severity; and his son who was, evidence on the side of his father, swore that he had himself loaded the pistol, to protect the premises which had lately been robbed:—that he had cast the bullets, and placed the pistol on the shelf. The learned judge, in stunning up the evidence, explained the law as laid down in the particular act of parliament by which these men were indicted the jury after a short deliberation, found the prisoner guilty. His lordship then, in a very impressive manner, passed the awful sentence of death upon the unhappy prisoner, without holding out the slightest hope of mercy being extended towards him.
It is a singular and painful fact, that the day this wretched man was placed at the bar, his two sons were suffering the sentence of the law, by being privately whipped, at Monmouth, for stealing in that town; and it is said that one of them, rubbing his shoulders, exclaimed, "Well, this is not half so bad as father used to beat us for not stealing." His wife, with that faith and affection found only in woman, not dismayed by apparent difficulties, got a petition drawn out; and the first person who signed this request That his life might be spared, was William Watkins—the very man he had attempted to deprive of existence. This was followed by many others, and was attended with the desired success.
No sooner was it known that Harris was condemned, than the Rev. Mr. Garnsey, actuated by the true spirit of gospel philanthropy, paid a visit to the prisoner, to see if he could be of any service to the unhappy man; who, no doubt, had been ofttimes the subject of his applications at a throne of grace. His entrance was preceded by that of the chaplain, at whose appearance, the miserable culprit burst into tears; his obdurate heart was broken up with a sense of his offences; and this, almost, hopeless character was now an earnest seeker of divine mercy. Mr. Garnsey was deeply affected at the scene before him—he approached him —"Ah! Harris," said he, "had you listened to me, you would not now have been here." He admitted the truth of this remark, and told him, that he had never ceased to pray for mercy since he had been there, and that his prayers had not been unavailing.
During the further conversation that, ensued; the reprieve, which had been granted; arrived at the prison. But no language can do justice to the scene of that moment: he fell on his knees, and, when utterance was given, they poured forth their united, their heartfelt thanksgivings at the throne of grace. Mr. Garnsey then proceeded to give him such advice as would tend to strengthen the powerful awakenings produced by the near prospect of death. Previous to his taking leave of the prisoner, Mr. Garnsey asked him if he had any message to send to his neighbours and friends. He replied, "Yes, remember me to them all." "That," said this excellent man, "is not what I want, Harris; have you no word of warning or advice to give them "He then desired him to tell them to keep the sabbath, for it was first to sabbath breaking he laid all his misery—to look at him, and take warning not to be content with merely coming to church on a sabbath day; with other words of admonition, which were faithfully and affectionately delivered to the people on his return, and there was scarcely a dry eye perceptible among his crowded auditors,  when he delivered the solemn warning of a, man, whom they, for perhaps the first time, regarded with sentiments of pity and regret.
It was a remark of the late Lord Gage, that actual poverty was unknown in the Forest of Dean. —"The poorest among them," said his lordship, " is better off than any town mechanic; and the richer are petty princes, living on their own lands, rent and tax free." But the face of things is now altered: sorrow and woe is to be found in their dwellings, and many and bitter are the tears shed for the fate of those beloved friends from whom they are separated. We trust these awful warnings will deter others from giving up their better judgment to those, who only lure them to destroy, by selling their advice as legal, and living on the hard earned penny of the poor.
That the Foresters will retrieve their characters as peaceable subjects, no doubt exists; and may they be renowned, as they ever have been, for open warm-hearted hospitality. They are highly privileged with pious ministers. In the true spirit of friendship, it is the desire of all who wish them well, that in future emergencies they would ask their advice, and be governed by their directions, who have no other interest than that of leading them to happiness in this life, and eternal felicity in a world to come.
It is not generally known how much praise is due to Edward Machen, Esq., for his efforts and influence in the mitigation of the offenders' sentences. Be regarded those poor men as friends and neighbours and to him it is owing, that some now suffering imprisonment are not banished for ever from all a Forester holds dear—his wife, his children, and his native woods.